I also provide a range of other cycling services and activities including bike sales, the sale of cycling equipment and adventure clothing, the provision of cycling education and training services, and the delivery of community based cycling programs.
---
The outline of the 2014 Bushranger Bikes tour program is now available:
Check out the early calendar......Click Here!
Make sure you don't miss out on the fun - enquiries and early bookings being taken now.....info@bushrangerbikes.com.au
---

Bushranger Bikes Grinders Cycling Club – for the love of cycling, fine food, great coffee and friends!
We love cycling, we love food, and good coffee makes any ride perfect – what more needs to be said!
Bushranger has established Grinders Cycling Club and it will embrace and extend the Bushranger Bikes cycling philosophy - offering small group, intimate & friendly rides.
To find out what Grinders is about, what's on offer, rides, membership, cost and everything else – click here.

---
Back Country Cycling - Adventure Tours For Adventurous People:

Cycling tours - Bushranger Bikes organise and run a range of fully supported tours in Queensland, New South Wales, Victoria and New Zealand - offering the best recreational cycling trails & routes in the world.

All Bushranger Bikes rides, tours, and cycling activities are primarily off-road (or away from busy roads) and fall into a category that I call 'Back Country Tours'. Rail Trails, Wine & Food Trails and my new Whale Trail

TM are my speciality and my trips aren't just about cycling - they provide the full holiday experience that highlights everything the destinations have to offer.

The tour packages that Bushranger put together cater for small groups (6 to 8 people) and are suitable for all adventurous recreational cyclists. They offer an unforgettable adventure experience that will take you to the best scenery, wrap you in seasonal colour, acquaint you with local history, leave you breathless with mountains, glaciers, beautiful lakes, rivers, fiords or ocean vistas, and leave you dreaming about remote rail trails and fantastic food and wine.

The Bushranger Bikes tour trademark is a mix of adventure, achievable challenges, heaps of fun, personalised service and a focus on safety and good tour management. Great food and quality accommodation are assured - places that are different, historic, remote or boutique.

More information on my tours can be found on the Calendar page, Tour page or check out the 'Feature Tour' below.

Join me for a fantastic adventure holiday

Jon Newrick - Bushranger Bikes
Check out the Bushranger Bikes 'Repeat Offenders Club' tour Rewards Program - HERE!
Other dates and custom group tours are available, including Southeast Queensland and New Zealand mountain bike tours - please contact Bushranger - info@bushrangerbikes.com.au for more information or to discuss options.
---
Bushranger Bikes 'Non-Events'

Half and full day local, Southeast Queensland adventure rides. No big crowds, no fanfare - just brilliant rides for riders!
Want to know more? Click Here!
---
2014 Feature Tour Destination.......
North Island NEW ZEALAND!


Joel crosses the Tongariro River

A 'Late Summer Sizzler' - this is a fantastic Bushranger Bikes Back Country tour itinerary!

This trip was first run in March 2012 and was a great success and so much fun. So - I have decided to include it in my annual adventure timetable.

Jump on board for a great trip! A chance to explore the bays, coast and harbour of magic Wellington, the beautiful river trail of the Hutt Valley, lots of downhill riding from the Central Plateau mountains, one of new Zealand's great new trails along the coast of Hawkes Bay, and some relaxing back country roads through the wine region of the Wairarapa. Plus lots more!

This tour is Grade 2+ (easy to intermediate) Category is bike path/road with some easy gravel back roads and trails. Please enquire about our

next tour - E-mail info@bushrangerbikes.com.au or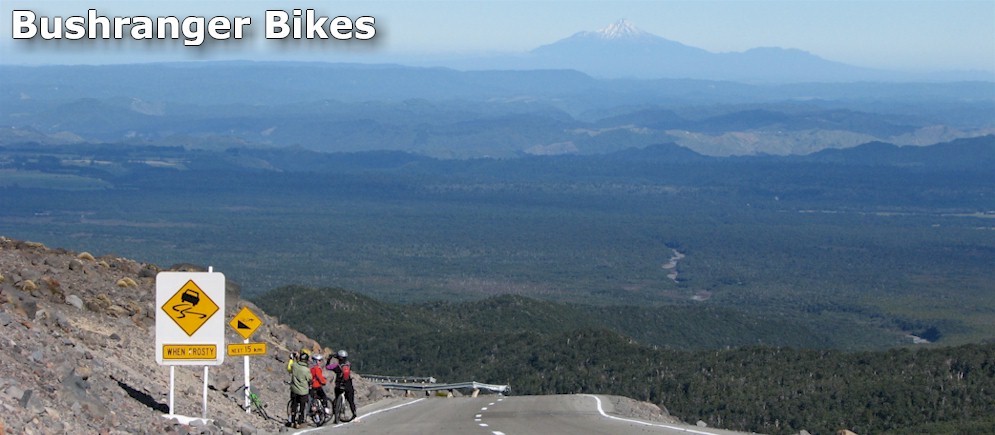 This is a 'photo' moment - From the Slopes of

Mt Ruapehu

(Turoa Road) looking to Mt Taranaki in the west.