Bushranger Bikes also provides community based cycling programs for local government through Brisbane City Council's and Moreton Bay Regional Council's Active Lifestyle Programs.
I hope that I will see you along on a ride or tour soon - Jon.
---

Brisbane City Council GOLD Cycling Programs are now available - January to June 2017 Click Here
---
*Media Coverage:
- Bushranger Bikes featured on Channel 7's Queensland Weekender with a focus on my Southeast Queensland Whale Trail Cycling tour. For a peek at the promo and to find out about this tour click here.
Also check out the latest story on Bushranger Bikes tour on 'Weekend Notes'.
Even better - why not join us for some great cycling fun! E-mail info@bushrangerbikes.com.au
---

2017 - New Tours, New Half and Full Day Local Rides, More 'Trails', Less Road Routes & Bitumen - it's Cycling Adventure Time!
What's on at the moment..........
Frolicking Friday Fun – it's a wrap!
The current program of Bushranger Bikes Friday Frolicks has come to a finish - they have been great fun adventure rides.

I will be running similar programs over 2017 so keep an eye open for details or sign up for Bushranger Bikes Newsletters - http://www.bushrangerbikes.com.au/subscribe.htm
_________________________________
Interested in Cycling Adventure Tours? The full Bushranger Bikes tour program is now available. Check out the calendar......Here!
Make sure you don't miss out on the fun - enquiries and bookings are being taken now.....info@bushrangerbikes.com.au
---


Springtime Cruising - Great Victorian Rail Trail, Victoria

Bushranger Bikes 2017 Feature Tour Destination.......North

Eastern Victoria.
Awesome Autumn!
The Bushranger Bikes Three Rails Trails Tour encompasses the High Country Rail Trail, the Murray to Mountains Rail Trail & The Great Victorian Rail Trail. The Alps, the lure of Ned Kelly, Wine & Produce - Gourmet Adventures and Cycling in the Victorian High Country!
Running 11 to 19 May 2017.
Tour Details:
Join Bushranger Bikes for 8 nights/9 days of some 'Awesome Autumn' cycling on the High Country Rail Trail, Murray to Mountains Rail Trail and the new High Line in the North Eastern Victoria in May 2016. These trails are marketed as Australia's Premier Rail Trails, for many reasons, and live up to them all.
You can expect crisp clear skies, clean fresh air, unbelievable Autumn colours, views and scenery unmatched anywhere else in Australia, all to be enjoyed from your bike. Remote, rural, thriving regional towns and fun communities - the region is steeped in the history of Australian Bushranger folk law, gold, tabacco and hops. - the beautiful towns alone are worth a visit to this region. Today this region of Victoria is also famous for its fresh local produce, including numerous vineyards and their award winning wines, and you will have the opportunity to sample these delights as you 'cycle the trails'.
Quality accommodation, great food, fantastic scenery and cycling, and loads of fun!
Jump on board for a great adventure holiday........
It's all go for Bushranger Bikes and cycling in the Victorian High Country in 2017 with a number of tours planned for both Autumn and Spring - the Wow Seasons! These tours are booking now - click here for more information.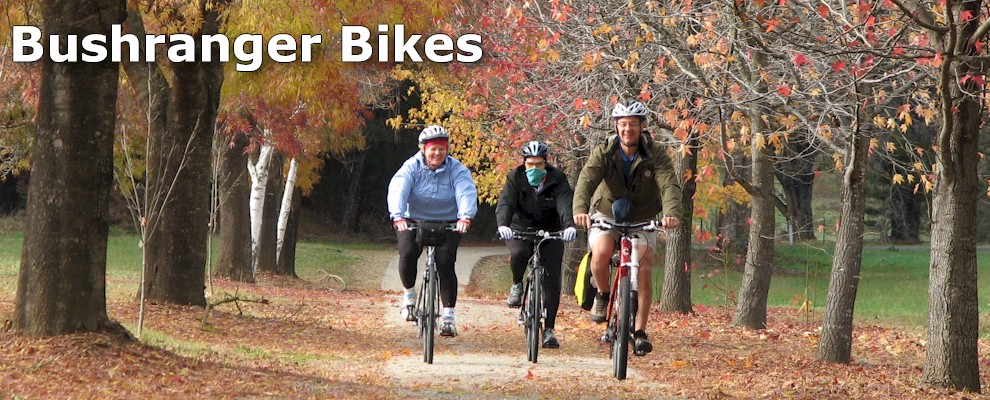 Murray to Mountains Rail Trail
For information, dates and cost - E-mail info@bushrangerbikes.com.au

---
What are Bushranger Bikes Back Country Cycling Tours all about?

Adventure Tours For Adventurous People:

Bushranger Bikes organises and runs a range of fully supported tours in Queensland, New South Wales, Victoria and New Zealand - offering the best recreational cycling trails & routes in the world.

All Bushranger Bikes rides, tours, and cycling activities are primarily off-road (or away from busy roads) and fall into a category that I call 'Back Country Tours'. Rail Trails, Wine & Food Trails and my new Whale Trail

TM are the Bushranger Bikes speciality, and my trips aren't just about cycling - they provide the full holiday experience that highlights everything the destinations have to offer.

The tour packages that Bushranger put together cater for small groups (6 to 8 people) and are suitable for all adventurous recreational cyclists. They offer an unforgettable adventure experience that will take you to the best scenery, wrap you in seasonal colour, acquaint you with local history, leave you breathless with awesome scenery - mountains, glaciers, beautiful lakes, rivers, fiords, wide open spaces, 'big sky country' or ocean vistas - and leave you dreaming about remote rail trails and fantastic food and wine.

The Bushranger Bikes tour trademark is a mix of adventure, achievable challenges, heaps of fun, personalised service and a focus on safety and good tour management. Great food and quality accommodation are assured - places that are different, historic, remote or boutique.

More information on my tours can be found on the Calendar page, Tour page or check out the 'Feature Tour' above.

Join me for a fantastic adventure holiday

Jon Newrick - Bushranger Bikes
Check out the Bushranger Bikes 'Repeat Offenders Club' tour Rewards Program - HERE!
Other dates and custom group tours are available, including Southeast Queensland and New Zealand mountain bike tours - please contact Bushranger - info@bushrangerbikes.com.au for more information or to discuss options.